Diagnosing Desire: Biopolitics & Femininity into the Twenty-First Century will be out on The Ohio State University Press in October 2020. It's part of Scott Herring's Abnormativities series.
Link to pre-order here: https://ohiostatepress.org/books/titles/9780814214510.html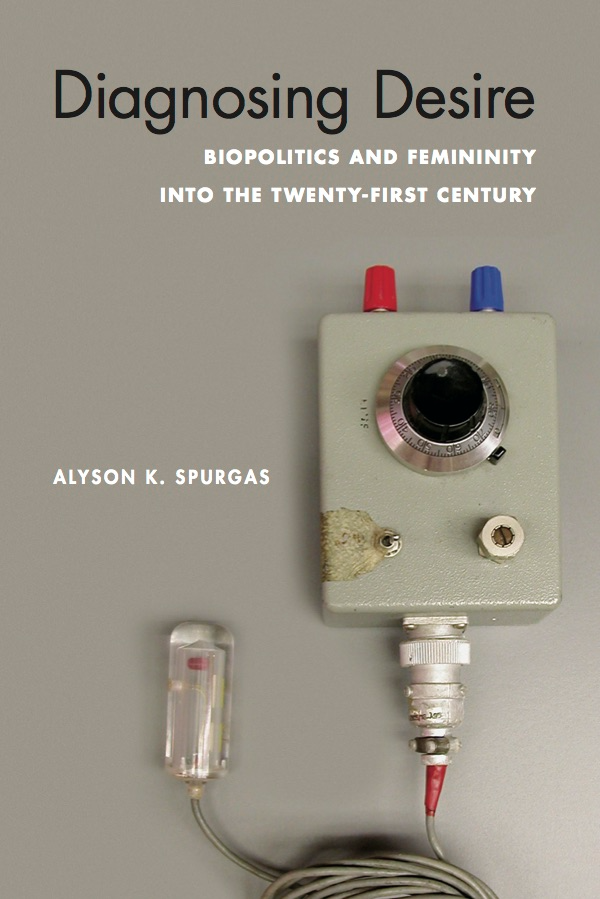 FROM THE PRESS:
In Diagnosing Desire: Biopolitics and Femininity into the Twenty-First Century, Alyson K. Spurgas examines the "new science of female sexuality" from a critical, sociological perspective, considering how today's feminist-identified sex researchers study and manage women with low desire. Diagnosing Desire investigates experimental sex research that measures the disconnect between subjective and genital female arousal, contemporary psychiatric diagnoses for low female desire, new models for understanding women's sexual response, and cutting-edge treatments for low desire in women—including from the realms of mindfulness and alternative healing.
Spurgas makes the case that, together, all of these technologies create a "feminized responsive desire framework" for understanding women's sexuality, and that this, in fact, produces women's sexuality as a complex problem to be solved. The biggest problem, Spurgas argues, is that gendered and sexualized trauma—including as it is produced within technoscientific medicine itself—is too often ignored in contemporary renderings. Through incisive textual analysis and in-depth qualitative research based on interviews with women with low desire, Spurgas argues for a more radical and communal form of care for feminized—and traumatized—populations, in opposition to biopolitical mandates to individualize and neoliberalize forms of self-care. Ultimately, this is a book not just about a specific diagnosis or dysfunction but about the material-discursive regimes that produce and regulate femininity.
FROM THE AUTHOR:
In Diagnosing Desire, I also interrogate the white liberal and cultural feminism that is foundational to what I call the feminized responsive desire framework within contemporary experimental sex research, self-help sex therapy, behaviorist models of receptive feminine arousal (including as they are embedded in the new low female desire diagnosis in the DSM-5), and anti-medicalization activism—I argue that this framework is not only heteronormative, but also cisnormative, bourgeois, and white (and also anti-pleasure and anti-kink…).
FROM READERS:
"Diagnosing Desire is a compelling feminist engagement with the science of sexuality. Nothing is spared in this powerful critique—from plethysmographs to mindfulness therapies, Spurgas identifies the governance technologies that render women's sexuality unfathomable and that modulate their desires within a framework of receptivity. This book makes substantial and vital contributions to discussions of (feminized) trauma; power, gender, and sexuality; consent and coercion; and gendered labor and carework."
— CHRISTINE LABUSKI, author of It Hurts Down There: The Bodily Imaginaries of Female Genital Pain
"Diagnosing Desire is a very provocative, critical, and strongly argued book, which goes beyond a discussion of women's sexual disorders to explore the anthropological, historical, and ontological dimensions of desire and gender."
— ALAIN GIAMI, editor of Sexual Revolutions